Brainerd Fishing Guides – Guides that fish Gull Lake and are known for their ability to bring in the big ones!

Lenny Hodgson
Meet Lenny Hodgson of the Nisswa Guides League.Lenny has been guiding on Gull and other area lakes since the early 70s. Being a retired school teacher, Lenny has the patience and the skills to actually teach people how to fish, and how to find fish. His years of experience on Gull Lake make Lenny a great choice to show you around the fishing spots on the lake.Marv Koep asked Lenny to join the Nisswa Guides League in 1974 and he is still there today. Asked about what he likes to fish for and when, Lenny says: I enjoy fishing a wide variety of species. Sometime, shortly after ice out we usually see some great Crappie fishing. In the spring and fall of course Walleye seem to be the main target, but during the mid-summer I think that Largemouth Bass fishing is about as good as it gets."
To line up a guided fishing trip give Lenny a call.
home:(218) 568-4527
cell:( 218) 838-0732
S&W Bait:(218) 829-7010
Email:lensal@uslink.net
MN Fishing Resort
Treat yourself to a guided fishing trip. You can start your guided fishing trip right from our docks, or if you prefer, the fishing guide will pick you up for a fishing trip to other area lakes. These professional fishing guides come prepared with everything needed to catch fish. They will not only take you to the fish, but teach you and help you learn how best to fish Gull Lake.
These are some of Minnesota's best fishing guides, they offer more than what you would expect in a guided fishing trip, include good conversation, plenty of skill, and lots of fun. They allow you to do it all or sit back and let them do all the work. Either way a guided fishing trip on Gull Lake is not one you'll soon forget!
Our Gull Lake Resort is the perfect spot for your next fishing trip. Our Vacation Rentals near Brainerd & Nisswa Minnesota are a great and affordable choice!
Brainerd Professional Guide Services:
Enjoy a day on the lake with the Nisswa Guides League. (218) 963-2547
Walleyedan's Guide Service will put you on the fish! (218) 839-5598
Nisswa Guide Service specializes in Gull Lake Fishing Trips. (218) 963-2401
Get on the water with S&W Bait Guide Service. (218) 829-7010

Toby "2 Crank" Kvalevog
Toby has been a teacher, coach, and professional angler here in the lakes area for over 15 years. Toby is an owner and Guide with Leisure Outdoor Adventures Guide Service that is based in the area. Toby has fished and guided here on Gull for well over a decade and is expert in the field of walleye fishing but is a multi species angler as well.
What some of our fishing friends have to say:
"Toby's the best! If you are taking your kid fishing he gets the program, kids first. Toby is an awesome fisherman and we have always had a fabulous success fishing with him. If you want great fishing and a great time, call Toby."
Mike K.
"Toby always makes the fishing trips worth while. Not only does he help you catch your limit but he makes it fun. He is really nice and always does his best to have you catch the best fish in the lake!"
Drew K. (13 years old)
"A trip to the Brainerd Lakes Area would not be complete without a few fishing excursions under the capable direciton of Toby Kvalevog. we have used other fishing guides, but non have been as personable and enjoyable to be with as Toby. My sons and even my husband and myself have caught loads of fish with Toby's keen sense of weather and knowledge of Gull Lake. He is full of entertaining stories, listens to ours and is kind natured and enjoyable to spend an afternoon with. Some of my fondest memories are sitting in a peaceful cove, while watching the sun set over Gull Lake and snagging the biggest catch of the day. I highly recommend Toby for all of your fishing excursions, you will not be disappointed"
Marilyn H
Toby Kvalevog
855-LOA HOOK
218-821-0168 cell
Tobyk@leisureoutdooradventures.com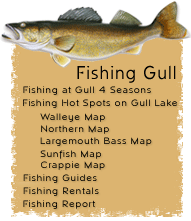 Click on the fishing menu above to visit our lake maps where we have
fishing Hot Spots
marked off by species!