MN Fishing Resort
Crappie Fishing – Bring the family crappie fishing, it's a great time to get the family together! Enjoy our Brainerd Minnesota Fishing Resort!
How to Catch Crappie on Gull Lake.
Crappie fishing must be an all time favorite for family fishing. Every kid should get to try their hand at crappie fishing at the end of a dock on a sunny afternoon at least once while their young. If you want to make it really interesting rent one of our boats and spend a day or two on the water. Crappies are fun to catch because their fairly easy as long as you know where to go. If one of the spots on the map is not producing, try another. Crappies are not only fun to catch, they are fantastic to eat as well because of their incredible flavor. Crappies bite early in the season so planning a fishing vacation in May and June is a great time to take advantage of our lower rates!
*GPS Coordinates included on the right.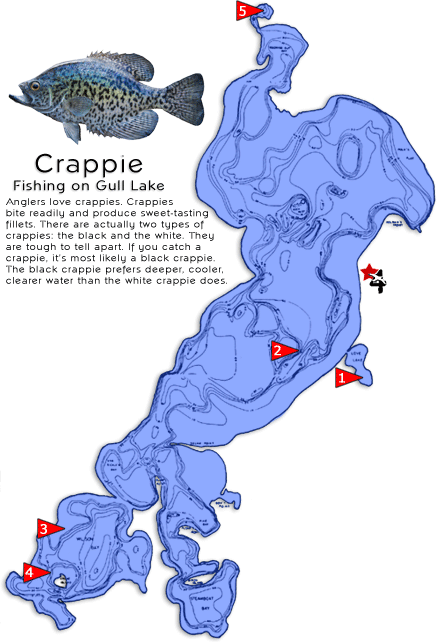 Crappie regulations on Gull Lake
Season: Continuous
Limit: 10 (no size restrictions)
Love Lake Crappies spawn in here from May into mid June. Use a jig & minnow suspended near the channel, or use a bobber and hook with a minnow in or near the swampier back end.
GPS Coordinates: 4626.315'N 94 19.103'W
End of the Bowtie Bar near Love Lake Good summer crappie, they will be deep, use a small jig and a crappie minnow.
GPS Coordinates: 4626.571'N 94 20.226'W
Wilson Bay Excellent May-June Crappies fish the dropoff into the reedbed with a jig and a minnow or a beetlespin w/ a Mister Twister.
GPS Coordinates: 4624.410'N 94 24.026'W
Wilson Bay Crane Island. Excellent early summer Crappie fishing try along the break with a minnow.
GPS Coordinates: 4623.906'N 94 24.293'W
Gull Lake Narrows Excellent May & Early June Crappie fishing. Take a jig and a minnow and you will be pulling out fish like a dentist pulls teeth.
GPS Coordinates: 4630.640'N 94 20.725'W
Purchase a Fishing License Online
Download MN Fishing Regulations
While you are fishing on Gull Lake you are sure to enjoy our affordable vacation Rentals!
Our MN Fishing Resort is here to help you have a great Minnesota fishing trip!
Site Map