MN Fishing Resort
Gull Lake Bass Fishing – Map Of Gull Lake With Bass Fishing Hot Spot Locations
How to Catch Walleyes on Gull Lake.
People say Bass fishing is more fun than fishing any other species. Minnesota is becoming well known for their Bass fishing lakes and Gull Lake is included as one of the great Bass fishing lakes in Minnesota.
Gull Four Seasons Resort has many great lodging choices for fisherman looking for a great trip, families planning a fishing vacation, or maybe your coming to Gull Lake for one of our well known fishing tournaments. Please give us a call and we'll help you pick the right accommodations to fit your needs. Our boat & motor rental, pontoon rental, boat lift rental and on the water Gas and Electricity for battery charging, will make your Minnesota vacation a success!
*GPS Coordinates included on the right.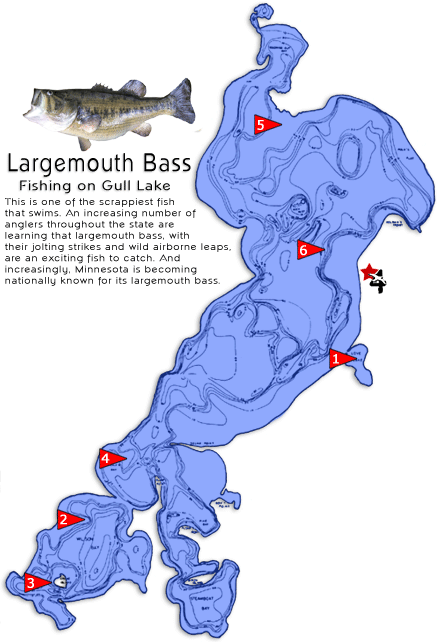 Largemouth Bass regulations on Gull Lake
Season: May 28 2011-February 26 2012
May 26 2012-February 2013
Limit: 6 (no size restrictions)
Love Lake Lots of Bass. Use a bobber and a leech or throw a top water lure.
GPS Coordinates: 4626.524'N 94 19.204'W
Wilson Bay This is a reed bed. Work the edges with a spinner or crank bait. A bobber and leech just into the reeds can be deadly on bass!
GPS Coordinates: 4624.496'N 94 23.765'W
Crane Island-Wilson Bay There are cabbage and reeds around the Island. Throw along the edges during the summer or work the shallower sandy weed line in the spring.GPS Coordinates: 4623.786'N 94 24.318'W
Across from Squaw (Gull) Point Very good bass fishing, from the deep water throw a rubber worm or crayfish into the edge of these reeds.
GPS Coordinates: 4625.350'N 94 22.995'W
Grassy Point Very good early season bass on top of this flat. Work from the deeper edges into the reeds during the summer.
GPS Coordinates: 4629.119'N 94 20.463'W
Northwest corner of Cinosam Flat. Very good Bass summer into fall. Weedline 12′ work the drop off and into the weeds with a rubber worm or crayfish.
GPS Coordinates: 4627.506'N 94 19.662'W
Purchase a Fishing License Online
Download MN Fishing Regulations
Our Gull Lake Resort is a great choice for your next Minnesota Fishing Trip. Our Affordable vacation rentals near Brainerd & Nisswa MN will make your trip a success!
Our MN Fishing Resort will get you on the water and on the fish!

Site Map