MN Fishing Resort
Minnesota Fishing Resorts – Northern Pike Fishing Map – Topography Fishing Maps
How to Catch Northern Pike on Gull Lake
Visit our Minnesota fishing resorts many lodging choices, pick your favorite fish species and call to make your reservation. We'll do the rest to make sure you have the best fishing vacation ever! There are plenty of Northern Pike in Gull Lake to keep you fishing from morning till night. Hang onto your rod because Gull Lake is well known for monster Northern Pike.
*GPS Coordinates included on the right.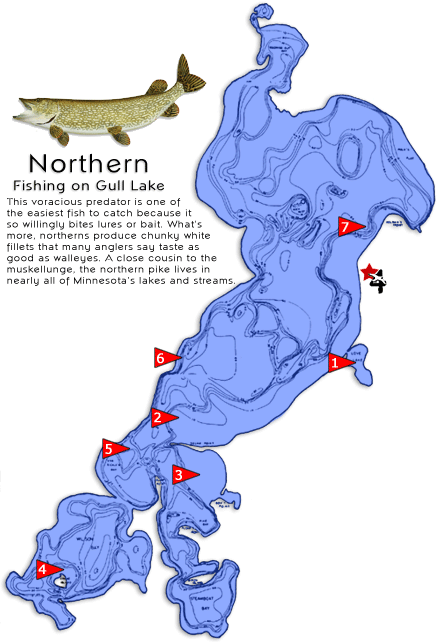 Northern Pike regulations on Gull Lake
Season: May 11 2013-February 23 2014
May 10 2014-February 2015
Limit: 3 (not more than 1 over 30 inches)
Love Lake Look Out! The big Northern Pike spawn in here, and many of them hang out all summer long. They will take any minnow in the water. It's also fun to throw shallow water lures.
GPS Coordinates: 4626.328'N 94 19.133'W
Flat north of Squaw (Gull) Point Very good Northern summer and fall. Troll along the weedline with a big plug or work slow through the weeds with a big sucker minnow.
GPS Coordinates: 4625.839'N 94 22.203'W
Flat south of Squaw (Gull) Point Very good Northern spring and summer. This is a cabbage flat. Best with low light (cloudy or morning) run a daredevil over the weed tops.
GPS Coordinates: 4625.089'N 94 21.989'W
Crane Island-Wilson Bay Very good Northern Pike in the summer and fall. Troll with a big crankbait along the weedline.
GPS Coordinates: 4623.939'N 94 23.975'W
West of Squaw Point Good morning spot. Good spring and summer. Sit deep and slowly retrieve a jig and minnow out of this reed bed.
GPS Coordinates: 4625.350'N 94 22.995'W
West shore Weed line is 8′, troll with a weighted daredevil or big plug along the deep edge of the weeds.
GPS Coordinates: 4626.360'N 94 22.163'W
North side of Cinosam flat and east Shoreline flat. Nice trolling run along the weed line, go 10-12′ deep.
GPS Coordinates: 4627.924'N 94 18.824'W
Purchase a Fishing License Online
Download MN Fishing Regulations
For your next Minnesota Fishing Trip make our Gull Lake Resort your first choice for Vacation Rentals!
Site Map