MN Fishing Resort
Fishing Minnesota – Whether you're planning a team building event or family fishing vacation, we're here to make your stay fantastic! We are the Brainerd Minnesota area's favorite fishing resort.
How to Catch Walleyes on Gull Lake.


The Bluegill (known to many as the sunfish) tends to grow larger than the pumpkinseed, and of course the bluegill is more blue and the pumpkinseed is smaller and more orange colored, both taste wonderful and are great fun to catch when biting. Plan a family fishing vacation or a team building event for your business. We are here to help make your stay a fantastic experience.
*GPS Coordinates included on the right.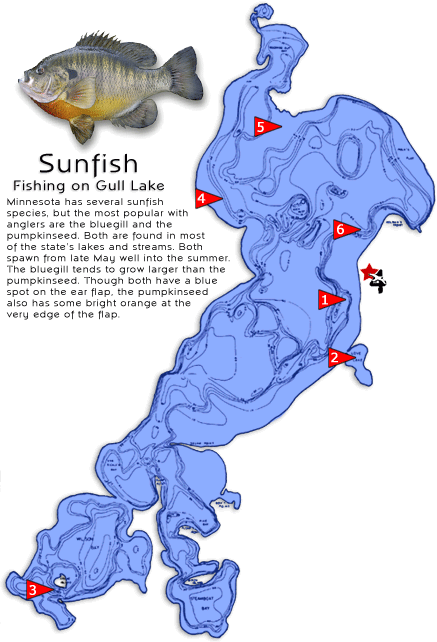 Sunfish regulations on Gull Lake
Season: Continuous
Limit: 20 (no size restrictions)
Cinosam Very Good Summer Sunfish. Look for submerged cabbage (weeds) at 12-14′. Use a split shot sinker and a #8 hook, baited with a small leech or a piece of night crawler. Fish without a bobber, just off the bottom.
GPS Coordinates: 4627.133'N 94 19.200′ W
Love Lake Small lake lots of fish! Sunfish are caught by the channel and just before the swampy back end. Fish with a bobber and a piece of night crawler or a small leech.
GPS Coordinates: 4626.524'N 94 19.204'W
Crane Island-Wilson Bay Lots of Sunfish spring and summer. Fish in the weeds and along the weed edge. Use a bobber and a leech or a piece of night crawler.
GPS Coordinates: 4623.735'N 94 24.147'W
The Hayfield Great summer sunfishing. Fish in the cabbage (weeds) 1′ off the bottom. Try putting down a crappie minnow also (some of the larger sunfish will take them)!
GPS Coordinates: 4628.341'N 94 21.420'W
Grassy Point The big sunfish come in shallow early in the spring on this reedbed.
GPS Coordinates: 4629.229'N 94 20.417'W
North Edge of Cinosam Flats Very good summer sunfish. Fish in the cabbage (weeds) using a splitshot and small hook no bobber. Use a small leech for bait.
GPS Coordinates:
Purchase a Fishing License Online
Download MN Fishing Regulations
While you are fishing on Gull Lake you will enjoy the affordable vacation rentals at our resort!
Site Map