MN Fishing Resort
Walleye Fishing In Minnesota – Gull Lake in Central Minnesota provides nice size walleye year round. Walleye fishing tends to be best early morning or late afternoon and evening.
How to Catch Walleyes on Gull Lake.

When you think of Walleye fishing in Minnesota, think of Gull Lake and Gull Four Seasons Resort! Make us your first choice for fishing resorts in MN! Our boat & motor rental, pontoon rental, boat lift rental and on the water Gas and Electricity for battery charging, will make your Minnesota fishing trip a success! WALLEYE PHOTOS
*GPS Coordinates included on the right.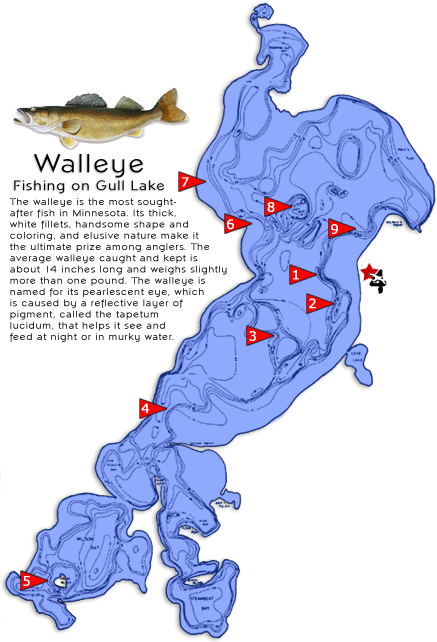 Walleye regulations on Gull Lake
Season: May 14 2011-February 26 2012
May 12th 2012-February 2013
Limit: 6 (not more than 1 over 20 inches)
Cinosam Flats good walleye fishing spring, summer, great fall. Flat breaks at 8′ weedline is 12′. Amazing fall spot to troll along break with a Shad Rap. Spring & fall use a Lindy Rig & redtail chub.
GPS Coordinates: 4627.613'N 94 19.662'W
Ridge off Cinosam This ridge tops off at 15′. Summer favorite for walleyes with a redtail chub, very good spring & fall with a redtail chub or shiner on a Lindy Rig.
GPS Coordinates: 4627.246'N 94 19.374'W
The Bowtie or Tower Bar The west hump tops at 5′, the east hump tops at 7 1/2′. Good walleye spring, summer, fall. Good spot for Shad Raps in the fall.
GPS Coordinates: 4626.702'N 94 20.392'W
Near Squaw (Gull) Point Lots of cabbage on the flat. Good spring walleye fishing, use a Lindy Rig and a shiner or redtail chub.
GPS Coordinates: 4625.853'N 94 22.204'W
Crane Island Wilson Bay Good summer walleye, go deep (20+) with a jig and redtail chub, or pull a big crank bait along the break.
GPS Coordinates: 4623.786'N 94 24.318'W
Rocky Point Excellent spring, good summer walleye. Work along the drop off and up over the flat with a Lindy Rig and minnow.GPS Coordinates: 4628.053'N 94 20.744'W
The Hayfield weedline 12′ excellent walleye spring, summer, fall. Work the cabbage (weeds) and deeper in the summer, work the cabbage and shallower spring & fall.
GPS Coordinates: 4628.697'N 94 21.244'W
The Rock Pile Gull Lake's classic spot! Very good for walleye spring, summer, fall. Work the downwind side of the flats. Check out in shallow any time as the walleyes forage on top in the early, late, and cloudy light conditions.
GPS Coordinates: 4628.172'N 94 20.038'W
North Edge of Cinosam Flats Excellent walleye spring, summer, fall. Use a Lindy Rig and minnow along the inside corner where the flat turns by shore.
GPS Coordinates: 4627.902'N 94 18.891'W
Purchase a Fishing License Online
Download MN Fishing Regulations
You are sure to enjoy fishing from our resort. We are the best deal in Brainerd area for vacation rentals! You will love our Gull Lake Resort.
Site Map